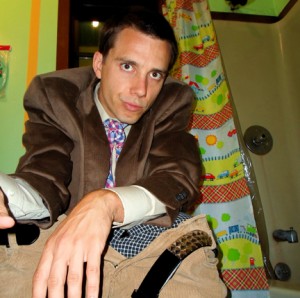 Following the recent release of Th' Mole & Friends: Love In The Chaosphere, an uncharacteristically mature and artful album for the psychedelically-styled MC/producer, comes the completely juvenile side-project, Jonah Brown: Logfather.  Featuring guest MC's Myka 9, Ngafsh & Wormhole, the 18 tracks consist entirely of braggadocious battle rhymes in a style reminiscent of the Beastie Boys, but instead of the traditional subject matter (rhyme skills, money, sexual prowess) Jonah and cohorts rap strictly about… poop.
Although one Amazon reviewer whines, "Seriously? A weak-ass rapper wastes his time and $ making a recording about sh*t and really expects people to buy it?" others disagree. Another review contends, "Jonah Brown's debut on Daly City Records is confusing, creative, awe inspiring and funny. It's also very well produced…"  Meanwhile Th' Mole's press release eloquently states that "Jonah Brown aims to subvert a universal taboo, placing all cultures and classes on common ground via this embarrasing bodily function. In addition the project is a reaction to the pomposity and self-aggrandizement commonly displayed in hip hop culture."
Decide for yourself what you think of the Logfather by listening at soundcloud.com/motionrecordings, where you can also download the lead single, "The Doody Dance" for free.  Purchase the entire release for $8.99 at Amazon.
[Also available for free download, Jonah Brown: Poop Raps 'Mixtape']