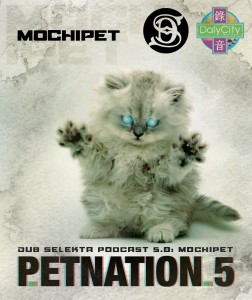 We're super stoked to be throwing down this special PETNATION edition mix as part of our Dub Selekta Podcast series. If you've been paying attention to our facebook fanpage then you'll have seen it blowing up with lots to do in relation to the newly resurected monthly in San Francisco that we're very proud to be apart of; PETNATION.
The first round of PETNATION started out as a series of underground warehouse parties headed by San Fran's Mochipet. After a brief hiatus, and some time moving from the underground warehouse scene to the more legit venues, PETNATION has been resurrected with a special Hallowe'en party on Oct 30th at Public Works. Headlining the night is one of our faves, Mark Instinct, as he plays alongside Mochipet and DCarls with local residents Slayers Club, Skulltrane, Free Krush, Question, Octopod, Taso and Supplying Demand. To coincide with the newly relaunched monthly, we've teamed up with Mochipet and the Daly City Records crew to bring you a special edition podcast rinsing out tunes by artists lined up on the bill!
If you're not in the San Fran area and won't be able to make it out to the party, thats ok! We're all about exposing new and exciting artists here at Dub Selekta so checkout the mix and discover some new tunes or relish in some favourites!
In addition to this new mix, Mochipet also just dropped a new mashup/remix album, 10 Reasons to Love Hate Dubstep, that he's offered up as a free download. Check out this link for an album of remixes that range from Hip-Hop to Hipster to straight up well.. Def Leppard! Between the stacked tracklisting and the sweet album artwork, this album is worth a peek.