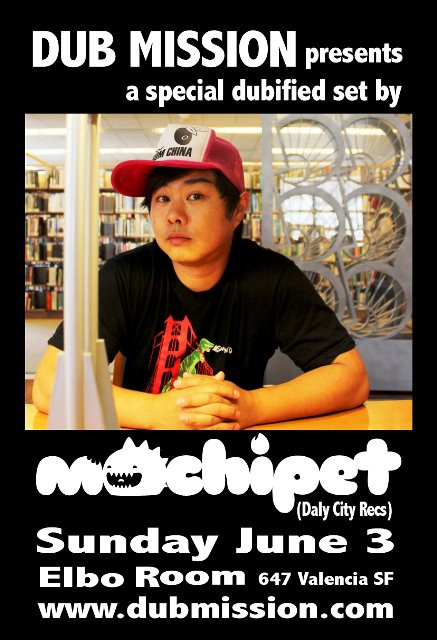 Sunday, June 10, 2012
DUB MISSION presents the best in dub, dubstep, roots & dancehall with
DJ SEP, J. BOOGIE (Dubtronic Science/Om) and a special set by MOCHIPET (Daly City Records)
at Elbo Room – 647 Valencia Street, San Francisco, CA 94110 – Club is 21+ – Club info: 415 552 7788
9 pm to 2 am – $6 – http://www.dubmission.com
Another DUB MISSION debut ! Ten years in the making, musical veteran MOCHIPET will bring a special set dedicated to the more roots and dancehall side of dubstep from his collection to DUB MISSION. Born in Taiwan to a rocket scientist father and a kindergarten teacher mother, David Y Wang aka Mochipet has traveled the globe from Europe to Asia and everywhere in between. With many overseas and U.S. tours under his belt, he has had his music featured in videos games with the Beastie Boys, and performed by a twenty-piece orchestra at New York's Carnegie Hall. David sees no boundaries in music, which is why he has worked with the likes of Professional Skateboarder Ray Barbee, techno queen Ellen Allien, jazz drummer Weasel Walter of The Flying Luttenbachers, and mashup DJ Z-Trip. Recently his songs have been dropped by DJs like Bassnectar. He just finished a tour with Sound Tribe Sector 9, and is currently in the studio, working on his new release Rawr Means I Love You which is due out later this year.
http://www.facebook.com/Mochipet.PetNation
http://soundcloud.com/mochipet
http://www.mochipet.com/blog/