Mochipet has just been added to the Concert Portion of The Dew Tour held at San Francisco's Civic Center along with Portugal the Man and Reptar, Music Starts at 7pm. Click Here for Official Site
Where is the Dew Tour?
For the first time in its eight year history, the Dew Tour will be hosted in San Francisco, California.  The Dew Tour Toyota City Championships will take place in the heart of San Francisco in Civic Center Plaza.  The event is sure to have a city feel with many of our courses inspired by San Francisco and the skaters and BMX riders that live there.
What events/disciplines will be featured?
The following events will be featured at the Dew Tour Toyota City Championships:
BMX Dirt, FMX, Skateboard Street, BMX Street, Dirt Best Trick, Skate Streetstyle and BMX Streetstyle.
What athletes will be competing?
Paul Rodriguez, Ryan Sheckler, Nyjah Huston and many more are set to compete at the Dew Tour Toyota City Championships.  Check out the full list of confirmed athletes here: http://www.allisports.com/dew-tour/event/san-francisco-2012/news/toyota-city-championships-athletes-confirmed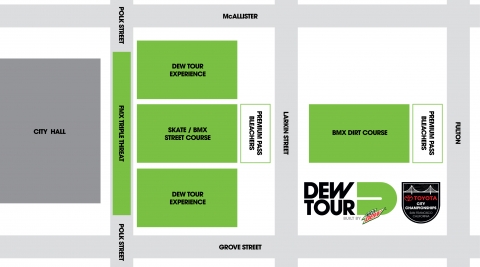 What can someone expect to see/get out of their time in The Dew Tour experience?
The Dew Tour Experience reflects the culture of action sports and the lifestyle of our fans through live partner brand experiences.  The Dew Tour Experience will be FREE for everyone.  Each of our partners will have a booth filled with different elements and products.
Our Partners include: Mountain Dew, Toyota, Pantech, iON, Paul Mitchell, Mongoose, National Guard, Stride and Dogfunk.com.
Dew Tour Experience elements include: Autograph signings, Skate and BMX Courses, Giveaways, Product displays, Social Media, Scavenger hunts and Contests.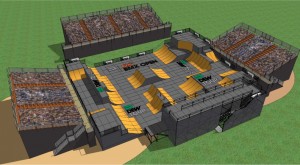 How can someone get to the Dew Tour at Civic Center Plaza?
The best way for Dew Tour fans to get to the event is by using public transportation, including Bay Area Rapid Transit (BART) and the San Francisco Municipal Transportation Agency (Muni).  Parking will be available, but limited around the venue.  Below is more information on the different ways to get to the Dew Tour Toyota City Championships.