By: Alex Alden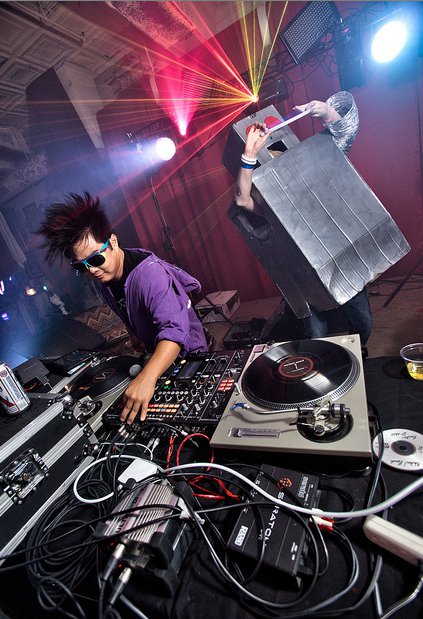 Bay Area DJ/Producer, Mochipet, is known for his loud purple dinosaur suit and dance floor bangers. However the musical maestro has long had his finger in the business side of the industry as well, running his own record label, Daly City Records.
The label's namesake, Daly City, is the oft forgotten neighbor of colorful San Francisco, CA. Mochipet, or David Wang as he is known sans dino suit, grew up there with his dad. Virtually unknown outside of the Bay Area, Mochipet decided to name the label after the town because he considers Daly City as well as Daly City Records to be his home. In an interview with The Brain Trust, he mentioned that, "It's great to see people from around the world recognize the name 'Daly City' even though they don't know the city. It's like building something from scratch and re-appropriating something on a personal level."
As illustrated through his commitment to home, family is important to Mochipet, and he has brought that commitment to lasting relationships to Daly City Records. All of the artists that have released on the label are in some way personally connected to him and he calls the label "a network of good family and friends." Due to this emphasis on personal relationships over musical genre, Daly City Records avoids classification.
Mochipet relishes in this fact, saying "I wanted it to be personal and not just another label with a 'niche' that spits out the same things over and over again. I love all kinds of music and really wanted Daly City to reflect that." The artists currently releasing on the label are definitely varied. Some of these up and comers include Living Stone, Th'Mole and Sovereign Sect.
Living Stone is based out of Montreal, Canada and creates deep bassy beats tossed with a dose of dubstep. Reno native Th'Mole puts on a full costumed show and dabbles in different genres but always throws in a splash of humor. His track 'I love Unicorns' is a catchy homage to Th'Mole's love of the mythical animal. Sovereign Sect, hailing from Fargo, ND, is a livetronica group who describe their sound as "as unique as it is diverse."
As with any modern, digitalized label, Daly City is faced with the threat of internet piracy, but Mochipet isn't worried about it citing the fact that since his artists are smaller, the people who listen to them are more connected to the music and less likely to steal. "…when your audience doesn't really care what you are doing and just want to listen to that hit song, that's where piracy problems come in, because you are trying to make money off of someone who doesn't connect with your artist on a personal level. It's like selling McDonalds food. They just want it fast and cheap. They don't care where they get it from. That's not what we are trying to do. We can give away our music for free and our fans will still donate or come support at shows. They are interested in what we are doing. "
The aim of Daly City records is "to expose people to awesome music they might have never heard." Bigger names such as eDIT (Glitch Mob) and Daedelus (Ninja Tune) who have become quite well known have released on Daly City but that was before they made it big and helped gain exposure to a larger audience. Mochipet is not interested in signing a major act and is more focused on the music and keeping the label unique. He says," Why would I want to make another label of something that's already out there? I think this is what will set us apart in the long run. I think the labels people remember are the ones that have their own character, one's that have their own personality."
Very refreshing to see a label sticking to its ideals in the industry.