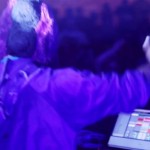 Welcome to the Future from Terminal West at King Plow on Vimeo.
Check out footage of Mochipet, Kraddy and Polish Ambassador from their performance at The Full Moon Mashup at King Plow Arts Center in Atlanta, GA in this video directed by Kyle Dettman. The soundtrack to the video is Mochipet's "Dionysus' Synthony" from recently released Chicxulub on 1320 Records.
The video is a part of a promo for Terminal West at King Plow.
"Opening in 2012, a 7,000 square feet music and special events venue in historic west midtown of Atlanta at the King Plow Arts Center. An extensive renovation to a 100 year old iron and steel foundry originally used to manufacture plows as a part of the King Plow Company. Featuring high end lighting and sound, leading-edge air conditioning units, and an outdoor roof deck overlooking the historic train tracks of West Atlanta. The home of friendly staff and unforgettable nights of music, this is Terminal West."
For more info, check out http://www.facebook.com/terminalwest