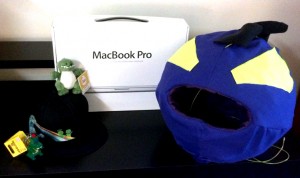 THE BAD NEWS: A few week ago Mochipet's Laptop was stolen in New Orleans on tour. From the artist: "Hello all! I have some bad news to report. While I was on tour last week in New Orleans someone went into my bag and Stole My Laptop. I am trying to raise funds for a new laptop as it's a integral part of my work and life. My friend Graz suggested that I put up a page with some of my music in return for donations, so I decided to make a 26 Track collection of my work…" Less then a week after David posted this Mochipet fans rallied and spread the word raising enough to buy him a new MacBook Pro. Now David is back on track and ready to make beats for you all again and he wanted to thank his fans personally.
THE GOOD NEWS: "I can't thank everyone enough. I never thought I could raise the money in just less then a week. My hope was to just spread awareness to other musicians and gear being stolen from shows, and on tours. Believe it or not, after everyone takes their cut, we don't make that much money as an underground artist. Everyone doing this is just doing for the music and when people come and steal your stuff it really puts a negative feeling to the whole purpose of music, which I feel is to uplift people. I pretty much work all week and play shows on the weekends so I have no social life, but I do it because I love music. To have the fans give back like this really solidifies my purpose, it really makes me feel good about making music again, and I am really grateful for that!" – mochi
If you read this and have any info about Mochipet's missing laptop please contact him at mochipet@dalycityrecords.com.

Mochipet's Laptop:
MacBookPro 15″
Dark Purple Hardshell Speck case
Ableton Live Gel Keyboard Cover
Serial # C02FG82ADF91
Part # Z0M1000BQ
MUSICIAN'S HERE ARE SOME PRECAUTIONS YOU CAN TAKE:
1) Tracking  Software (these track your laptop in case it is stolen)
– Project Prey http://preyproject.com/ (free)
– Lojack  http://www.absolute.com/lojackforlaptops/
– Apple iCloud (will track your Mac)
2) Always keep a copy of your Serial Number so you can report to police
3) Always report your stolen laptop to the police department. (if you bought your computer with a credit card come companies will give you money back if it is stolen)
P.S. – Yes that is the new sample of the Mochipet Limited Edition Grassroots Hat you see on the left there! I just got it in the mail.. coming soon!
Thanks to everyone who donated <3
Adam bosley, Alexander Clark, Alexander Donin, Andrew Highland, Andrew Lewis, andy
lindemann, Attila Kovacs, Benjamin Anderson, bequignon olivier, Bonnie Barrilleaux,
brandon helke, Brandon LaSan, brett milford, Caleb Johnson, chad dever, Christopher
Deakin, clarence hall, Cole Johnston, component records, Daniel Meier, Derrik Sakima,
Devin Saunders, Dj Digital, Doctype Beats, don r irwin, doug kaufman, Erica Noles, Evolve
Media Production, Fabien Moreira, Form B Music LLC, François Roland, Friendly
Integration LLC, George Logan, Greg Paul, HiFi-Friends, James Park, Jami Brierley, Jared
Lindo, Jasen Coburn, Jason Moss, Jeff Doane, Jeremiah Smith, Jesse Cohn, Jessica Cail, Jessica
Dangelmaier, Jim Andersen, Jimmy Lin, John Langan, john nash, Jonathan Broome, jordan
buttry, Jose Cintron, joseph chang, Joseph Goldsworthy, Josh Sanderlin, Joshu Doherty,
Joshua Franck, Joshua Sarlo, Julie Melen, Julien Bier, justin morales, LeeAnn Cook, Leo
Cheng, Lionel Rouge, Luke Everson, luke reddington, Magical Bass, Manju Varghese, Manuel
C. Marquez, Markkus Rovito, matias bettinsoli, Matt Boksa, Matthew Rankin, matthew
smullen, Matthew Zipkin, michael gianotti, michele kaplan, Mike Lardy, Mikkel Munch
Mortensen, Nathan Vincent, Nick Baltar, Nicole Aptekar, NVR-NDR, oleg tutunnikov, Orman
J Walters III, Otium Industries, P MORGAN, Paul Tyler, Pawel Pietryka, Peter Farr, Peter
Gutierrez, Project Rooster, PWR Worldwide LLC, Rafrica Adams, Ramsay Devereux, Richard
Nunez, Richard Witty, Rowan Kastner, Rya Kirby, Ryan Mcallister, Rylie Hayes, Sean Glenn,
seurgi lee, Shannon Brusca, simon begg, stephen adams, Steven Betel, Steven Smith, Steven
Toth, Taylor Callahan, Thomas Lockwood, timothy johnson, Tyler Erlandson, U-Smoke,
Venecia Ramirez, Warren Georgia, william b hein, YUMI HEMMI, zachary williams