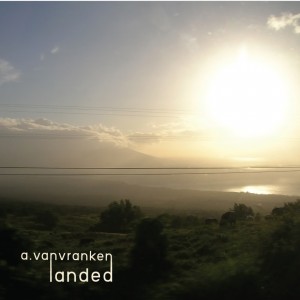 ARTIST: a.vanvranken
TITLE: Landed
LABEL: Daly City Records
CAT-NO: DCR164
FORMAT: Digital
RELEASE DATE: 8/26/11
Landed is the third LP from idm and downtempo producer A.VanVranken, produced and fine-tuned over several years. Taking a cue from more mellow idm and ambient influences such as The Flashbulb and Autechre, Landed is grounded in melody and intentional beats rather than the harder idm-style turbulent noise. Starting things off confidently with the sunny roadtrip of 'Tomorrow' and ending with the deliberate calm chaos of 'Scy', the album guides one through bright and danceable head-bobbing moments, industrial suspense, and introspective interludes catered by mysterious, unintelligible vocal samples allowing you to insert your own context into each track. Elements of non-idm artists such as El-P and Black Moth Super Rainbow sneak into tracks like 'Trench' and 'Miguel' to add variety and complexity to the soundscape, with intriguing distortions and repetitive glitchy hooks scattered throughout to flow it together in a carefully-arranged and cohesive package. Landed might best be described as 'active background glitchbient shoegaze' – a soundtrack for a beautiful day spent outside, or afterhours chilling at home.

Tracklisting:
1. Tomorrow
2. Landed
3. Do Not Fall
4. Timedquiet
5. Be Careful
6. Comfort
7. Trench
8. Mine
9. Miguel
10. Scy (feat. Teresa Flowers)
a.vanvranken- Timed Quiet by DalyCityRecords